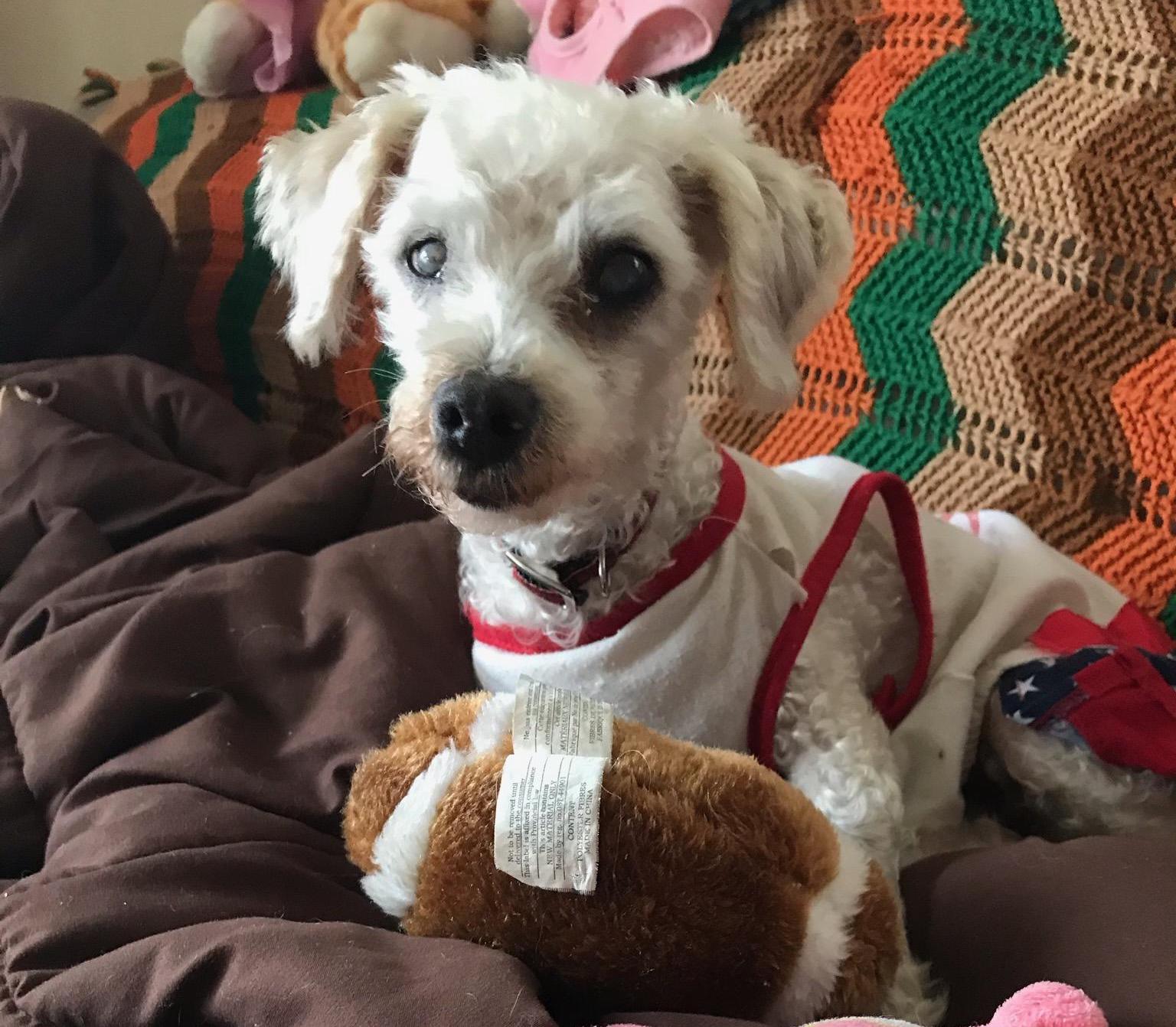 Mazie 2
Mazie is such a lovely little lady. She was surrendered to the rescue after years of neglect and breeding. She only wanted love in her life and got a raw deal. Thank goodness she did because she had a ruptured eye and bleeding mammary tumors. She was a solid mat of fur but allowed us to bathe her and shave her down to get all that horrible stuff off of her. Then we went to the vet and got her all fixed up. She went through a huge surgery but they got all the tumors and they were biopsied to make sure she would be cancer free. As with any mammary tumor, there is a danger that someday she may develop tumors in other areas, but for now, she is cancer free and living the good life with her foster mom.
Mazie would do best in a home with someone who can spend all their time with her. She tends to get whiney when you don't let her be with you. She's looking for a lap to spend the rest of her years on. Mazie has no vision in the eye that ruptured prior to her getting to us but has great vision in her other eye. She loves her stuffed toys and is a bit of a toy hoarder. She will get all her toys and put them around her on the couch and just act adorable. It's a wonderful thing to see a pup that was so neglected and unloved blossom into a happy little pup.
Mazie is now fully vetted and healthy. She can be a little picky with her food but has her faves as her foster mom will tell you. She adores roasted chicken from the grocery store! Mazie is around 12 years old, weighs 8 or 9 lbs, and is housebroken. She is dog selective and would be best as an only dog or have a meet and greet prior to any adoption with another dog in the residence.
She is located in Hicksville N.Y. Mazie's adoption fee is $400.00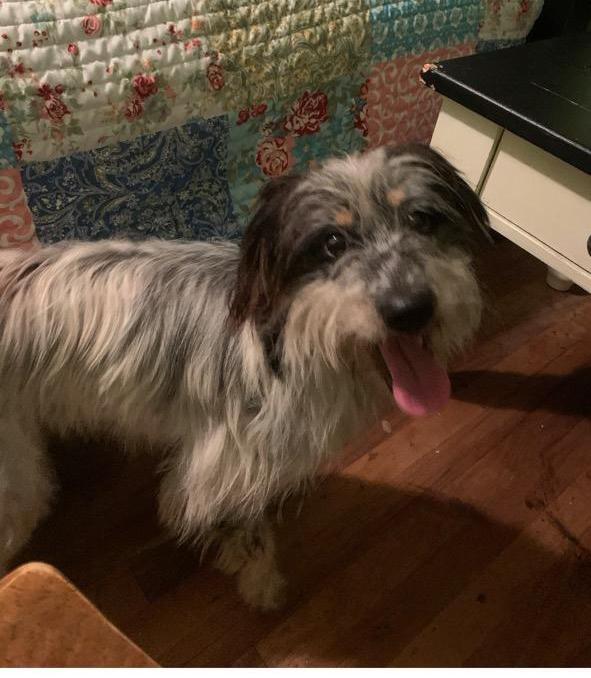 Jojo
Jojo is one incredible pup! She was found wandering in Texas and no one ever claimed her! She stayed with the finder until rescue (us) was found and then we had her transported to the Big Apple! She was so frightened and shy when she got here. She was filthy and stunk to high heaven but she sat like a champ for her bath and trim to get the nastiness all off of her.
She was so happy once all the gunk was off of her. Jojo has blossomed into a wonderful pup. She is so loving and has a kindness about her that we've rarely seen. Her spirit is gentle and sweet. Jojo weighs in at around 31 lbs presently but she should gain a bit of weight. She didn't eat for the first few days when she arrived but is now chowing down and gaining some weight nicely. She is around a year old. Jojo is awaiting her spay appointment and will receive any necessary vaccines at that time. Foster is needed in the Nassau or Suffolk County NY areas or the Albany or Saratoga NY areas. Anyone fostering must be able to take their foster to their vet appointments.
Jojo is Heartworm negative and lyme negative. Jojo is located in Freeport NY To apply for adoption please email us for an application at ourbestfriendsrescue@gmail.com Her adoption fee is $600.00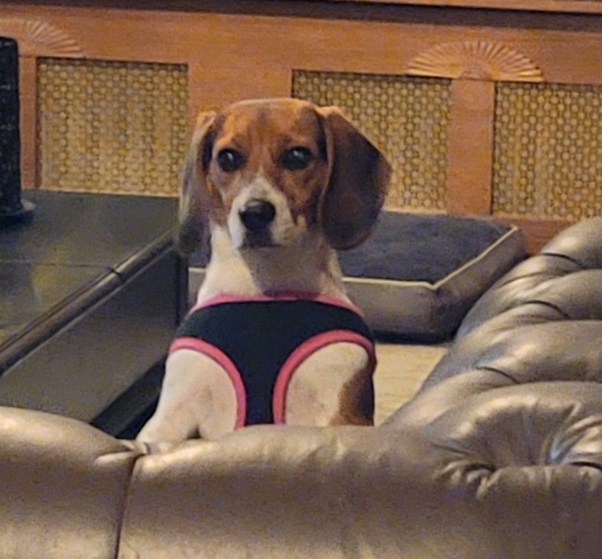 Mazie the Beagle
This little girl is such a beauty! Unfortunately she was an impulse purchase during the Covid lockdown 🙁 Mazie is 6 months old, weighs in at around 16 lbs and is all Beagle! She is considered a 12″beagle which is the smaller one and she is definitely petite. Mazie loves playing with other dogs or is fine on her own. She loves chew toys and is really pretty much a perfect pup.
When Mazie was brought to us she was in a harness and wouldn't move. Once the harness came off she blossomed almost immediately. She now has a collar that she is comfortable with and will need leash training as she received none. She uses the doggy door in her foster home and loves it. She is great in the house and hasn't had any accidents since her first night. Mazie gets along with everyone she meets and wants nothing but love. She gets frightened if voices are raised so a calm and balanced home would be best. She will receive her booster shots and be spayed as soon as we can fit her into the vet.
We prefer she go to a beagle experienced home as Beagles are a breed of their own and it's best to understand them. If you are looking for pure love and adoration then this is your girl! Anyone applying to foster must be located in Nassau or Suffolk County NY and be able to drive her to her vet appointments. Our vet is located in Sayville NY Upstate fosters in the Albany County and Saratoga area will also be considered.
If you are interested in our gorgeous girl please contact us at ourbestfriendsrescue@gmail.com for an application.
Mazie is located in Freeport NY. Her adoption fee is $650.00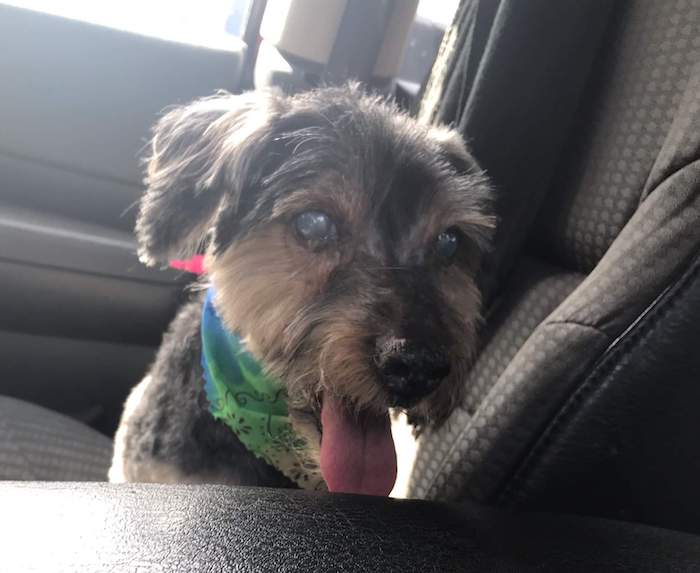 Junior
Junior is approx 12 yo and is a Yorkie mix. He is blind and deaf. He was dumped at a firehouse in NYC then found himself at the kill shelters in NYC. He was obviously neglected. He was severely matted and had horrible teeth. After a spa day, lots of love from his foster Momma Barbara and a well needed dental, he is ready to start his new life. ❤️ His ideal home would be a quiet home. If children are in the home, they need to be older.
He is very sweet but being blind it takes him a bit to get the lay of the land. He had no problem learning his way at his foster home.. He loves being outside in the back yard. Poor thing obviously never had a dog bed in his past life but is now getting used to it.. He is housebroken to go outside and is wee wee pad trained. He will let his foster Momma know when he wants to go out.
His Adoption fee is $300..He is a sweet, laid back dog who needs a furever home. If that home is yours, please fill out an application on our website www.ourbestfriendsrescue.org
Rules For Adoption
An adoption application must be completed before any meet and greets or extensive information is given out. All of our animals are home fostered and we must be diligent about protecting our volunteers. Our adoption fees range from $0 to $500 and are determined on a per case basis. Our puppies that are to young to be spayed or neutered will be adopted out and a contract will be signed committing the adopter to perform the procedure as soon as the puppy is deemed ready by a veterinarian. This will be done no later than 6 months of age.
Our animals are rescues. We sometimes don't know everything about the animal as they are usually in our care for a short period of time. We disclose EVERYTHING we are aware of at the time of adoption. We cannot be responsible for an issue that occurs weeks or months or years after the animal is adopted. Opening your heart and your home to a rescue animal is a commitment. It is not for as long as the dog is easy to care for, or, until you get tired of it. It is for the life of that animal. We will be very selective as to who we allow to adopt our angels. We expect you to be open and honest during the adoption process.