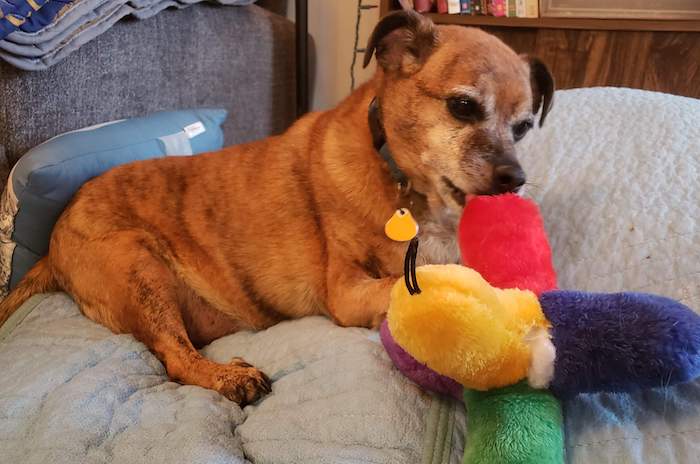 Cody
Cody is the sweetest funniest little (well not so little yet) guy. He was in a kill shelter in Kentucky when people reached out to us to help him. So sad that no one there would step up for this guy! We have no idea what type of mix he is but Terrier and Chi are possible. When we first saw Cody he was a whopping 40lbs!!!!! He could barely walk a few steps, had sores and scrapes from his tummy dragging on the ground and was in all around bad shape.
We quickly found a temporary local foster and got him to safety. He was seen by the vet there and waited two weeks to be cleared for transport. While with his foster mom he lost 7lbs!!!!! I wish I could lose weight like that! He enjoyed walks and play time and discovered his coveted toys, which he never had before ☹ Once Cody arrived in the Big Apple he went to his new foster home and settled in very quickly. He get his dinner of kibbles and green beans and his snacks are apples, carrots, berries and other fruits and veggies. He's continuing to lose weight and loves being allowed to run around in the yard. He does get along with other dogs but can be a little humpy with one of the cute girls there and his favorite blanket.
Other than that, he is simply pawfect! And he has a few extra toes on his back feet too! Those have to weigh something 😊
Cody is currently around 29lbs, is about 7 or 8 from best guesstimate and just a love cuddler. Cody is located in Bellmore NY.
His adoption fee is $425.00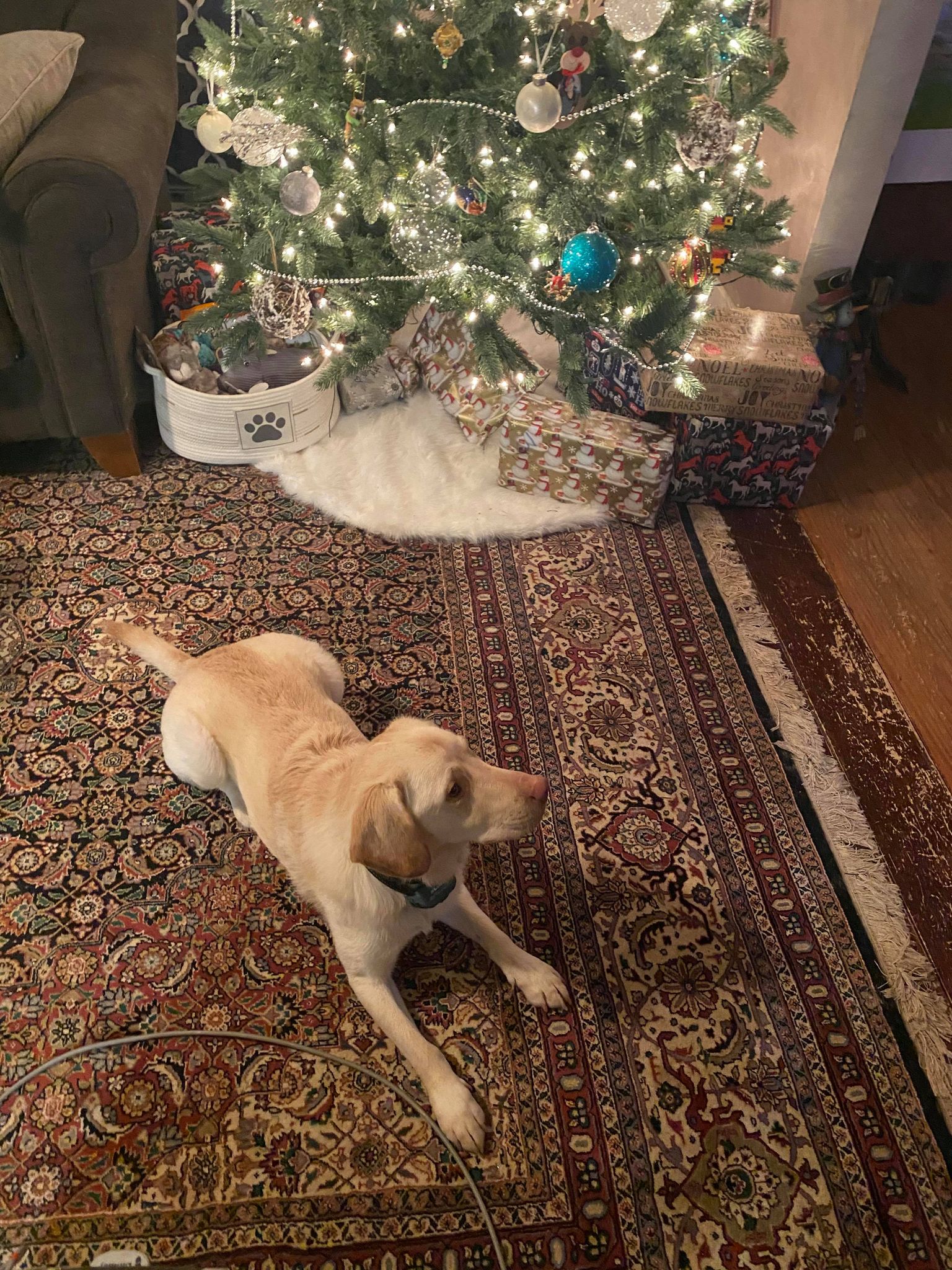 Jaxx The Lab Mix
This handsome boy is Jaxx, and he's in the market for his furever home. He is by all means a goofy, energetic lab with the sweetest smile and a glint in his eyes that could melt snow. He's a natural athlete that can clear a 6 foot fence and will run his own personal marathon were a door to be cracked open.
Because he is quite the physical specimen, he needs to be on a lead even in a fenced in yard. Jaxx would do best in a low key environment with no young children. He has lived with other dogs before and currently has foster fur sibilings; however, he must be fed separately due to guarding behaviors. These same behaviors mean that he should never be allotted bones or treats that last longer than a chew or two. With some time and patience invested in trust-building and consistent training, he could be the new best friend you're looking for.
If you're ready to welcome Jaxx into your life and head on over to OurBestFriendsRescue.org and fill out an application today.
Jaxx is approx 40 lbs and is 4 years old.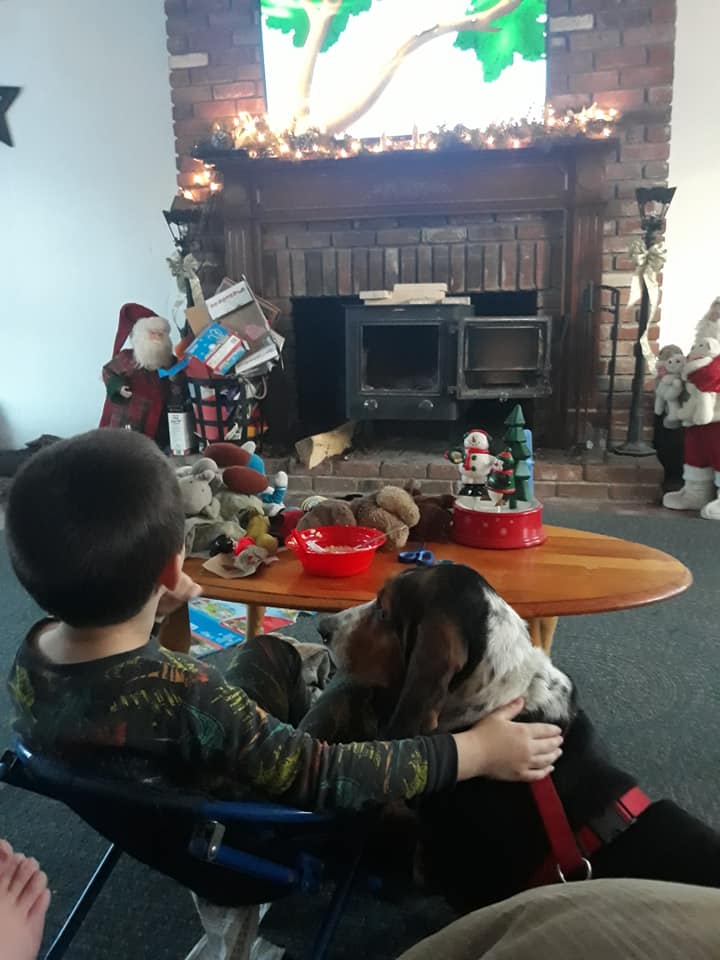 Jasmine The Basset Hound
Jasmine is wonderfully sassy basset girl who is ready to sniff out her furever home. She started out a little shy and was unsure of men, but she has since flourished in her foster home. She adores children and keeps her foster fur siblings in line with her glorious hound bay. If they get a little too wild around the kids or decide it's time to wrestle, she puts her bossy pants on and makes sure everything stays in order.
This spunky, floppy girl is up to date on her vaccines, spayed, and ready to strut her stuff in a home of her very own.
If you would like to welcome miss Jasmine into your life, head over to OurBestFriendsRescue.org and fill out an application.
Jasmine is located in Schnectady NY. Her adoption fee is $600.00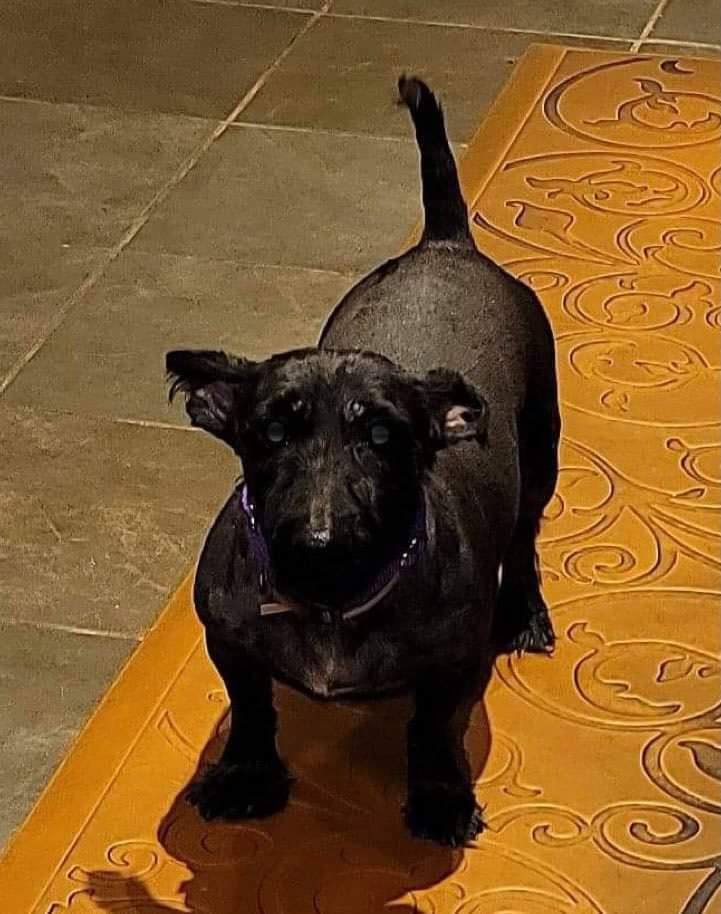 Buster
Buster is such a fantastic pup! We first lay eyes on him when the NYC shelter sent out a plea to save his life. We saw his picture and had no idea what kind of dog he was. He was a big mass of black matted fur and kind of looked like he would be a fluffy type of pup. To our amazement, once the matted fur was shaved off, there stood the cutest little chubby Scottish Terrier!!!!! This poor little boy had been so neglected and on top of barely being able to move his head without pain from the mats, he had horrible ear infections. We've had them treated and he's starting to feel much better now. We will have them rechecked around January 11th to make sure he's doing well. We got him too late to help his one ear that had a hematoma at some time but the other ear is pure Scottie.
Buster is a little love bug who wants nothing more than a lap and lots of love. He does need to have his food monitored as he is a chow hound and will eat until he explodes if you let him. He is a small Scottie but at 15lbs is still in need of losing about 2lbs. Buster is afraid of leash walking but is getting better with a little practice. He's great on car rides and is really very easy going. If you're looking for a sweet little man to spend your time with, he's your guy!
Buster is located in Freeport NY. His adoption fee is $550.00
We do not have any way to cat test our pups. Please do not ask! If other animals are in a prospective adoptive home a meet and greet must be done. Applications do not guarantee you will get the dog you are applying for.
Please be patient after you've sent in an app on a dog. This is an all-volunteer organization, everyone works and has families. This is done in our not so spare time.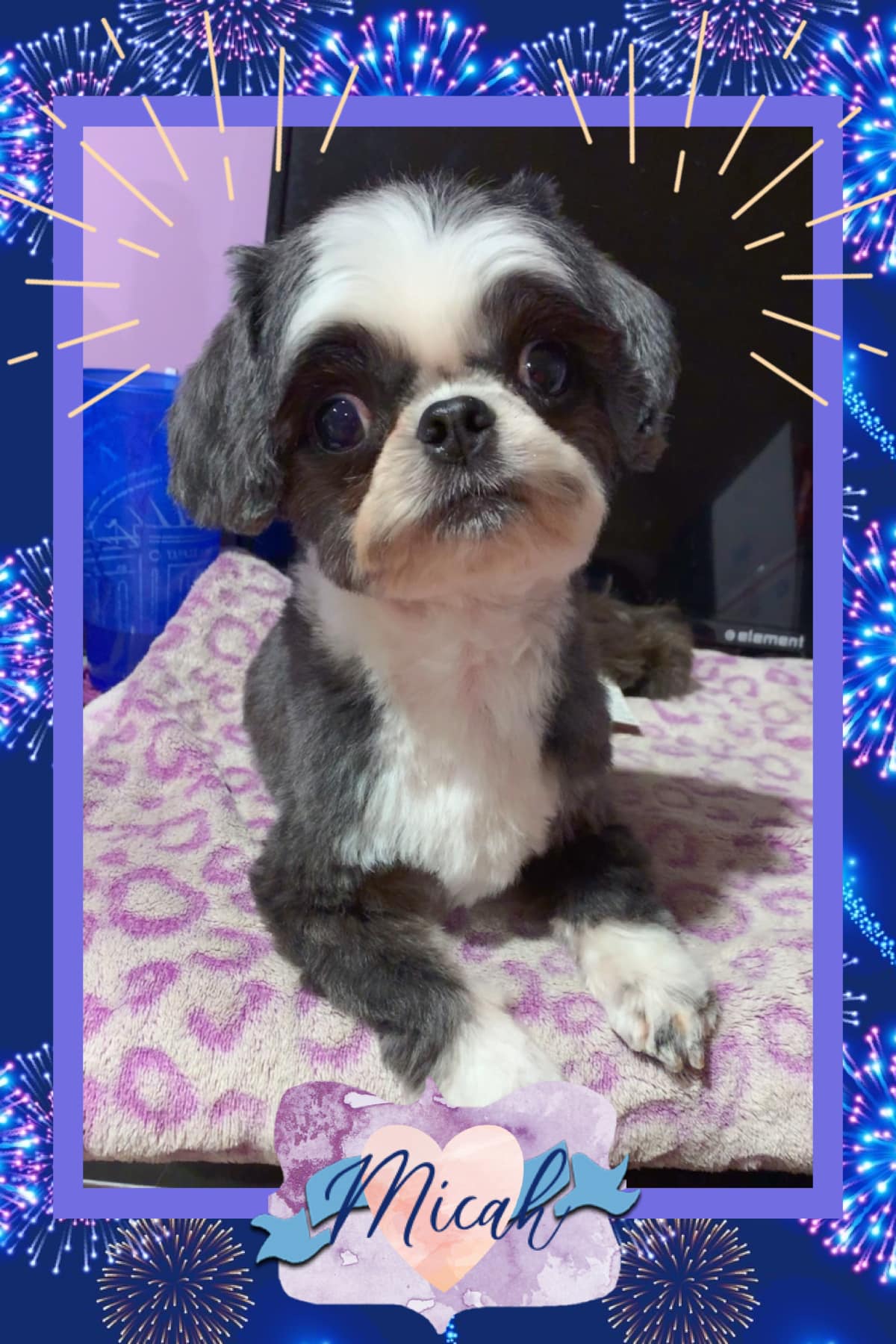 Micah
Micah is a sweet, senior boy living in a puppy shaped package. He's seven years young and has what is called an open fontanel. (I have attached a link below in the comments for more information on this condition so potential adopters can make an educated decision based on Micah's needs.) Aside from a little googly-eyedness and cloudiness in his left eye he doesn't let it hold him back from a normal life. His favorite past times are warming laps, curling up into a cinnamon bun to nap, quality control testing blanket warmth, and sight seeing in his car seat. As I type this, he is currently wrapped up in a blanket snoozing on my desk. He doesn't much approve of being gated in or separated from people, but loves just being a tiny supervisor for many tasks: cooking, watching TV, working from home, really anything. Long walks however are not in his vocabulary. He'll meander on his terms, but hiking from point A to point B means he'll be looking to you for a ride in your sweater.
He has mingled well with my mild-mannered pack and we've had no issues behaviorally or otherwise, but with his condition, he cannot rough house, wrestle, or be harassed by other critters. A family with another low energy senior pet or older children could be considered. His personality indicates that a family with a lot of time at home would be best to minimize separation stress. Getting him to eat his kibble instead of holding out for people food has been a bit of a challenge. He seems to chow down once 7PM hits, but he definitely seems to be no stranger to the delectable nature of table scraps and has an entire routine of begging dedicated solely to them even though all of his best efforts have failed. For his health, his diet needs to remain free of such delights.
He is potty trained, neutered, microchipped, and up to date on his Rabies, Distemper, and Bordetella. He also has a seresto collar, car seat, and several sweaters to his name. As he is a shih tzu with a coat that continually grows, he will require regular brushing and combing multiple times a week and routine grooming about once every other month to prevent painful matting and skin issues. His foster mama is going to send a proper brush and comb so there's no reason not to keep up with his tangles. He's a very good boy for all of it and generally falls asleep by the end of the process.
✨ If you are interested in welcoming this wonderful boy into your life and lap, head over to OurBestFriendsRescue.org and fill out an application today. 🤩 Adoption Fee: $550
Micah is located in Queensbury NY 💫 Don't forget to do your research and look into his condition before applying: https://wagwalking.com/condition/open-fontanel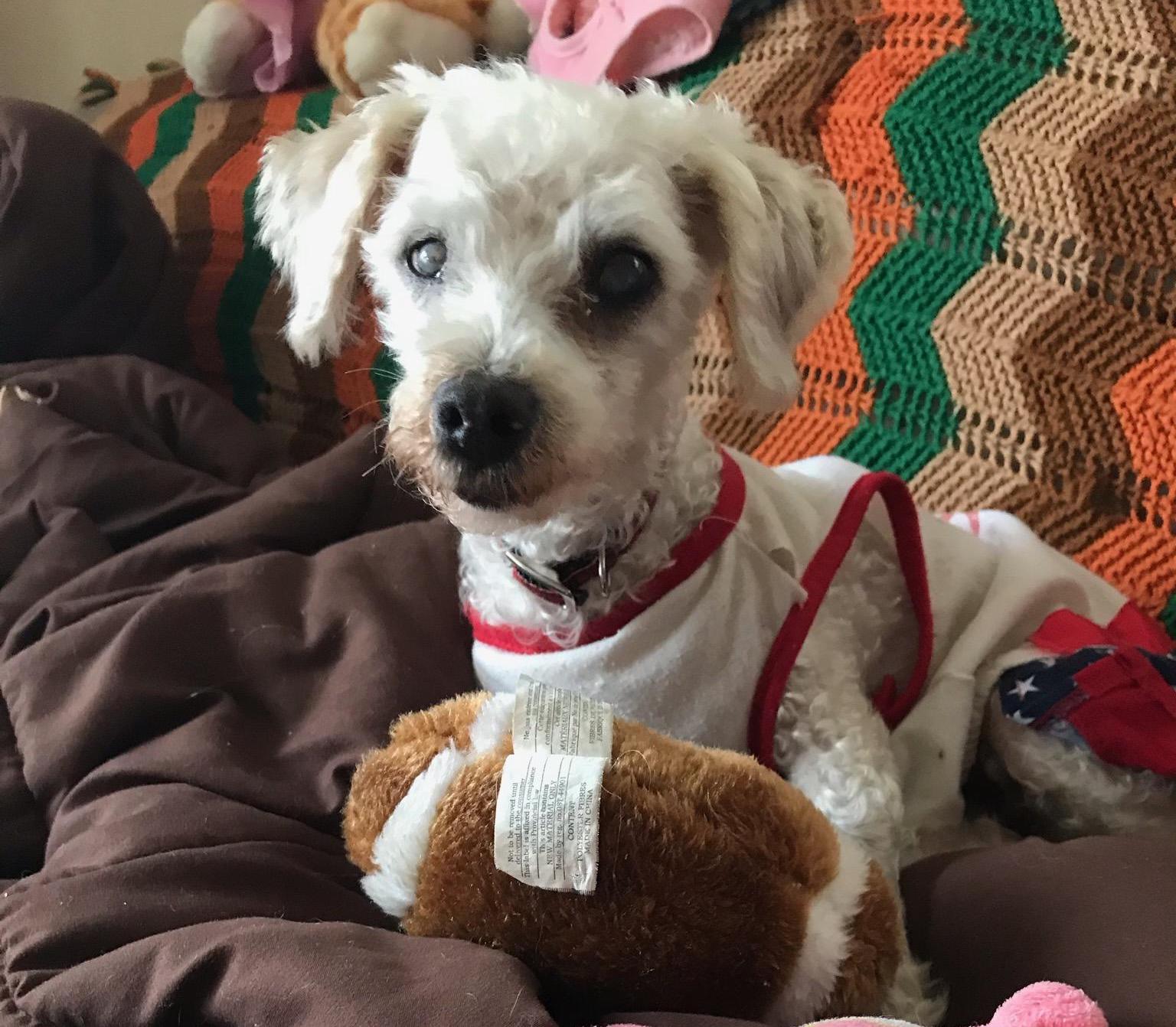 Mazie 2
Mazie is such a lovely little lady. She was surrendered to the rescue after years of neglect and breeding. She only wanted love in her life and got a raw deal. Thank goodness she did because she had a ruptured eye and bleeding mammary tumors. She was a solid mat of fur but allowed us to bathe her and shave her down to get all that horrible stuff off of her. Then we went to the vet and got her all fixed up. She went through a huge surgery but they got all the tumors and they were biopsied to make sure she would be cancer free. As with any mammary tumor, there is a danger that someday she may develop tumors in other areas, but for now, she is cancer free and living the good life with her foster mom.
Mazie would do best in a home with someone who can spend all their time with her. She tends to get whiney when you don't let her be with you. She's looking for a lap to spend the rest of her years on. Mazie has no vision in the eye that ruptured prior to her getting to us but has great vision in her other eye. She loves her stuffed toys and is a bit of a toy hoarder. She will get all her toys and put them around her on the couch and just act adorable. It's a wonderful thing to see a pup that was so neglected and unloved blossom into a happy little pup.
Mazie is now fully vetted and healthy. She can be a little picky with her food but has her faves as her foster mom will tell you. She adores roasted chicken from the grocery store! Mazie is around 12 years old, weighs 8 or 9 lbs, and is housebroken. She is dog selective and would be best as an only dog or have a meet and greet prior to any adoption with another dog in the residence.
She is located in Hicksville N.Y. Mazie's adoption fee is $400.00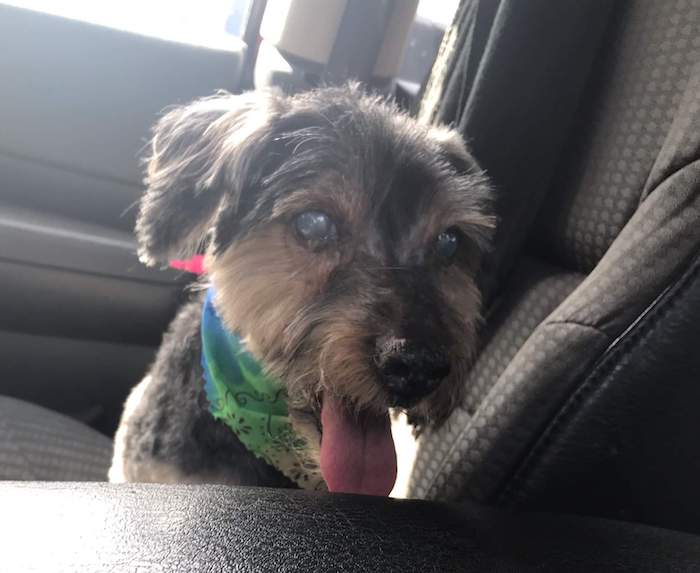 Junior
Junior is approx 12 yo and is a Yorkie mix. He is blind and deaf. He was dumped at a firehouse in NYC then found himself at the kill shelters in NYC. He was obviously neglected. He was severely matted and had horrible teeth. After a spa day, lots of love from his foster Momma Barbara and a well needed dental, he is ready to start his new life. ❤️ His ideal home would be a quiet home. If children are in the home, they need to be older.
He is very sweet but being blind it takes him a bit to get the lay of the land. He had no problem learning his way at his foster home.. He loves being outside in the back yard. Poor thing obviously never had a dog bed in his past life but is now getting used to it.. He is housebroken to go outside and is wee wee pad trained. He will let his foster Momma know when he wants to go out.
His Adoption fee is $300..He is a sweet, laid back dog who needs a furever home. If that home is yours, please fill out an application on our website www.ourbestfriendsrescue.org
Rules For Adoption
An adoption application must be completed before any meet and greets or extensive information is given out. All of our animals are home fostered and we must be diligent about protecting our volunteers. Our adoption fees range from $0 to $500 and are determined on a per case basis. Our puppies that are to young to be spayed or neutered will be adopted out and a contract will be signed committing the adopter to perform the procedure as soon as the puppy is deemed ready by a veterinarian. This will be done no later than 6 months of age.
Our animals are rescues. We sometimes don't know everything about the animal as they are usually in our care for a short period of time. We disclose EVERYTHING we are aware of at the time of adoption. We cannot be responsible for an issue that occurs weeks or months or years after the animal is adopted. Opening your heart and your home to a rescue animal is a commitment. It is not for as long as the dog is easy to care for, or, until you get tired of it. It is for the life of that animal. We will be very selective as to who we allow to adopt our angels. We expect you to be open and honest during the adoption process.