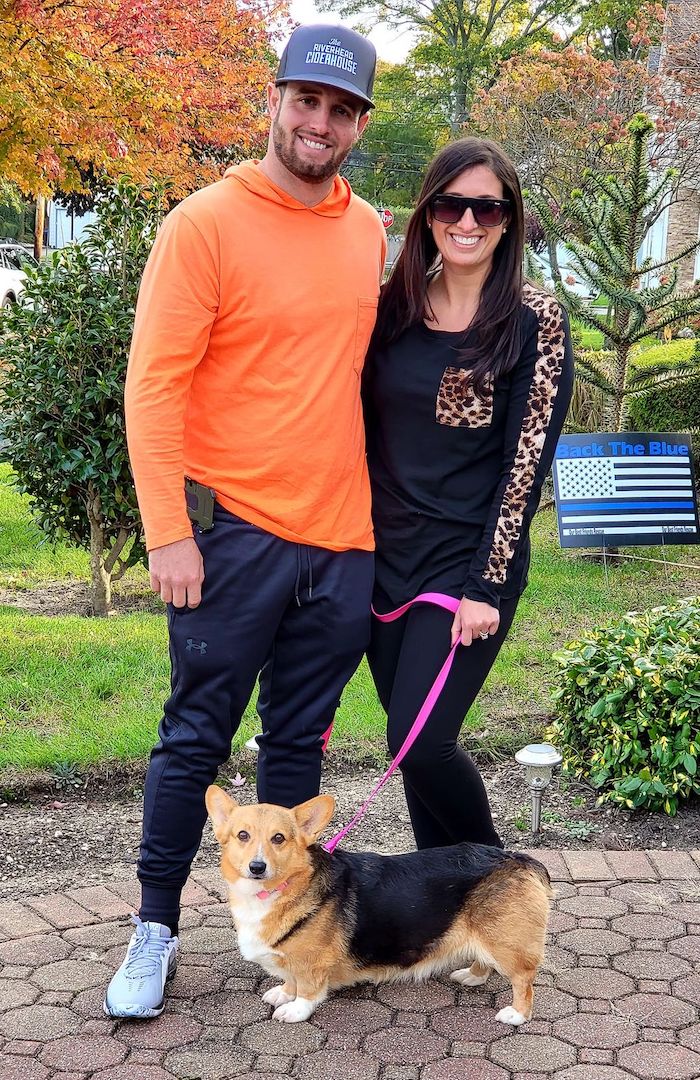 Cordella aka Cordie
So today was an amazing day for our beautiful girl Cordelia aka Cordie aka Delia aka Deli.
After waiting for a long time for the pawfect home she has chosen very wisely. Her she is bedecked in her jeweled collar and matching leash ready for her new life.
From mill momma to the lap of luxury and love ❤
I'm so thankful to everyone who took part in her rescue from hell and helped in her journey to a wonderful life.
She ran to them when they came back to pick her up. Didn't even look back. That's what we love.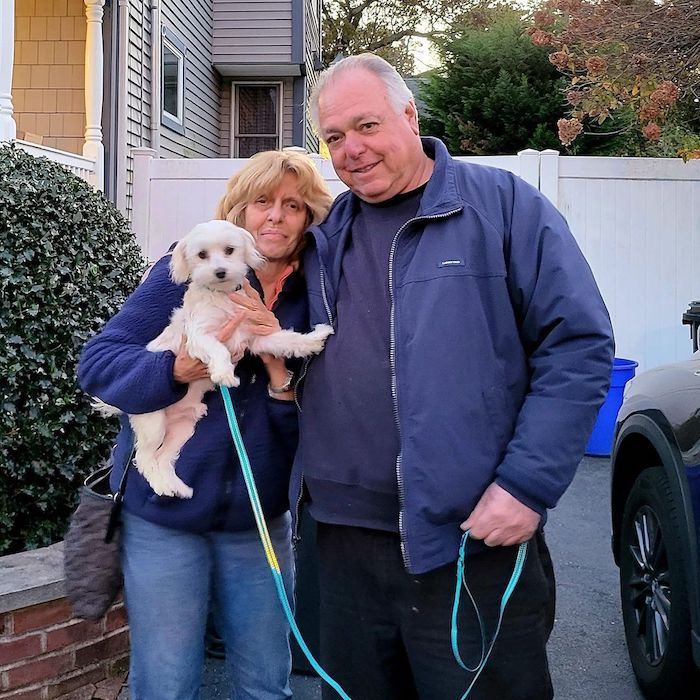 Gomez
Happy Tails to Go Go Gomez. He has chosen his furever home and he has chosen wisely 💜
This precious little boi was wandering the streets of TX with a buddy and ended up in a shelter 😢
He and his pal have both found the homes they both were meant to have.
This little ball of energy will keep momma and daddy on their toes for many many years.
Fancy and her gorgeous babes
Happy Tails today! Fancy and her gorgeous babies have all left the building!
My thanks and love to Rebecca Saner for guiding this bunch to us.
We couldn't have found better homes and are over the moon that they will be loved and spoiled furever! This is so great 💜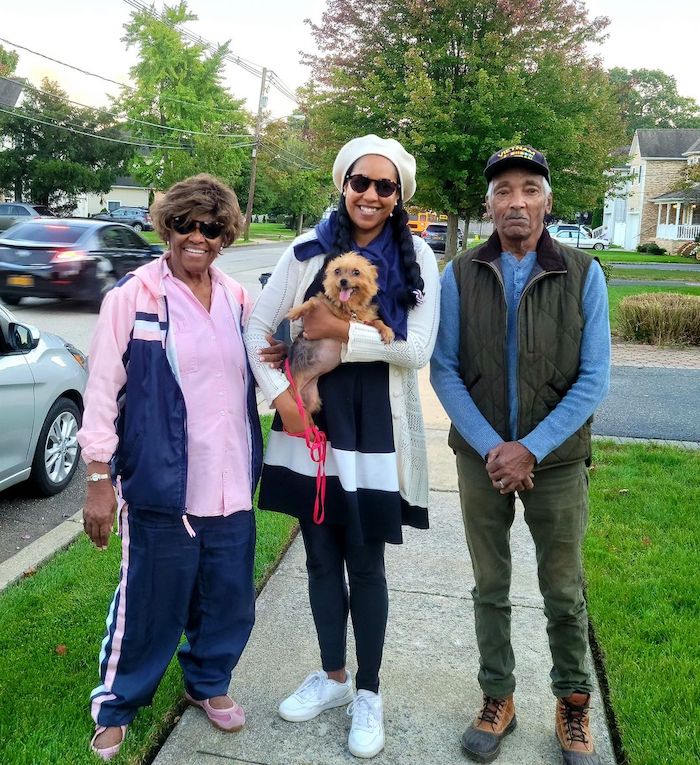 Strawberry
Happy Tails Strawberry 🍓 You have chosen very wisely precious girl!
You loved your Grandpa right away and was so excited to see them come back for you.
Thanks to Maya Ducky and Ilana Stone! This little angel is going to have a wonderful life from this day forward.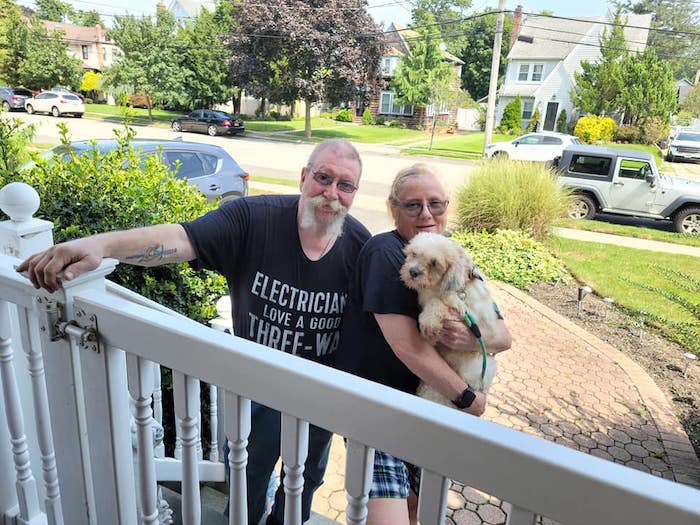 Coconutz
Happy Tails on a Monday!!!!
Coconutz is still so frightened of humans but needed someone special to help her become the pup she was destined to be! The change in her is why we do this! No more street life for this gorgeous girl 😍
From feral to loved and cherished! Thank you Laura Fives for opening your heart yet again to one of our more difficult cases.
You are an angel 😇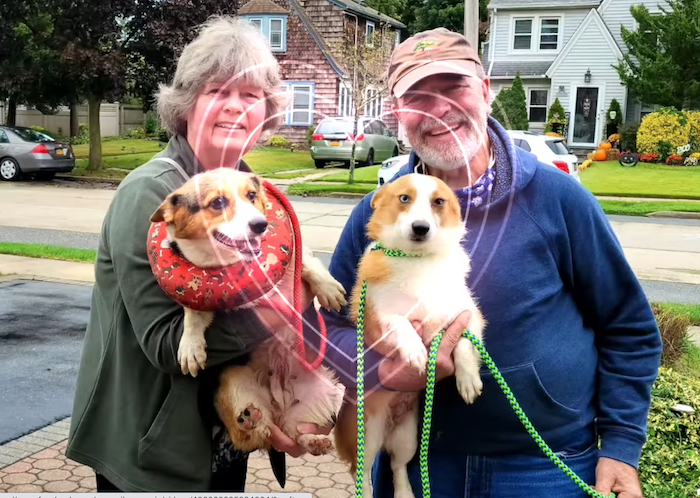 Sage & Birdie
Happy Tails for Birdie and Sage!
The girls have been adopted by a previous adopter who lost our Dixiebelle a few months ago. We could never have dreamed of such a great home and we're so thankful that mom & dad opened their hearts for both of these precious girls.
Have a wonderful life my precious babies. You chose wisely 🙂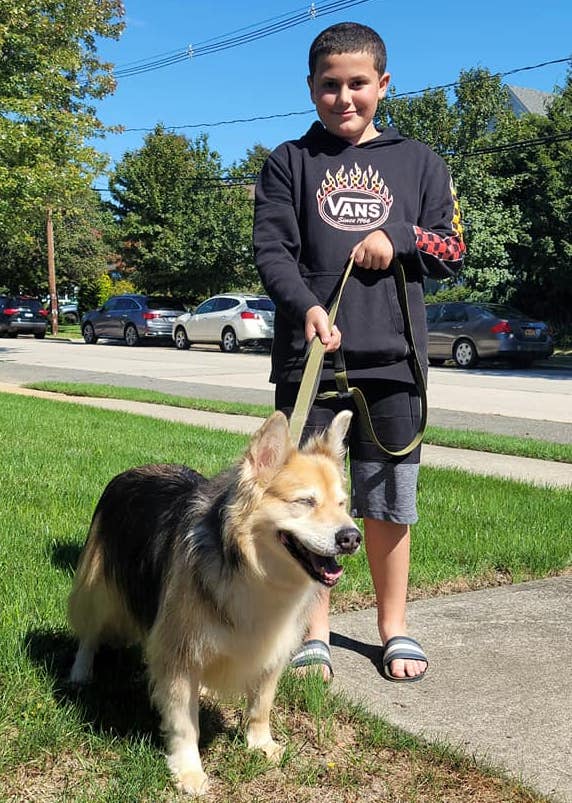 Rocco
Sometimes things just happen at the perfect time! Happiness comes to Rocco today 🥰 He came to the rescue because his mom was ill and the family couldn't care for him. He had some skin issues going on but those were all taken care of immediately. Then he waited. I don't know why, but I asked a previous adopter if they would consider letting him hang at the best puppo retirement home I know of. 2 days later he is on his way!!!!!
I've never seen their son smile so big and for so long! I'm blessed to have such wonderful people in my life 💜
Thanks to Debbie and Andrew and their amazing kids for letting this hansum boi into the rest home. ❤
I will miss Rocco Rabinowitz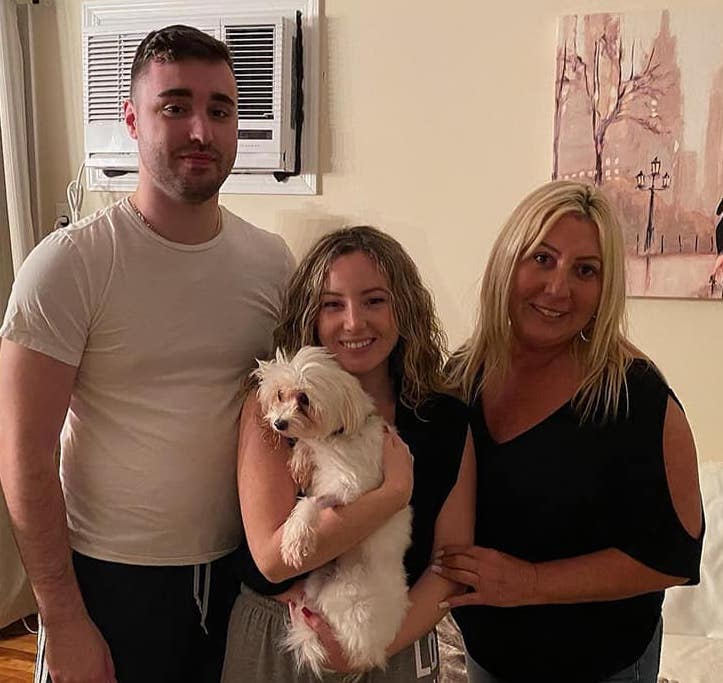 Sophie
What a lovely Happy Tail for a Tuesday evening. I'm not sure who rescued who, but I know our beautiful little Sophie has landed herself the most pawfectest home in the world! She needs them as much as they need her.
I just love this family and am so happy that Patricia Bohn Morris brought them into our rescue family!
Thanks to everyone who helped in this rescue, Kim Caruana, great job girlie! Kurt Corell and Alison Haab-Corell , thanks for letting me wake you up this morning 🤣🤣🤣🤣
Together we're making a difference 🥰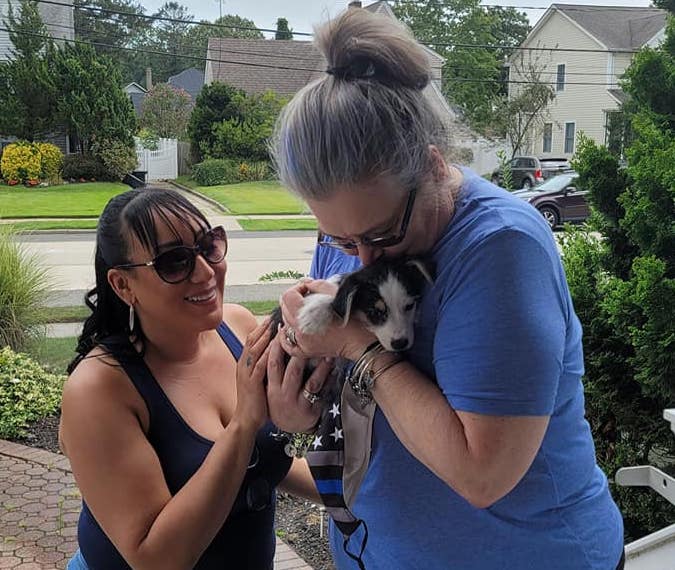 Cookie Girl
The first of the babies has gone to her new home! It's a special Happy Tail for her new Momma and sister 💕 She will try to fill their hearts with as much joy as can be imagined.
She has a big sisfur who needs her desperately too!
Happy Tails cookie girl! You will be forever loved and cherished!
Thanks Sharon Lynn for guiding Sue Piccolo to us. We are so happy that we could help 💜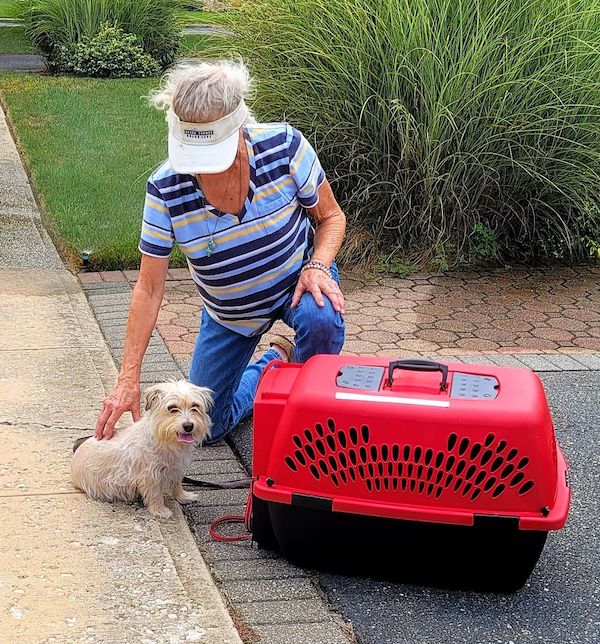 Dora
Today, after a long wait, we finally have our little Dora's Happy Tail! After being found on the streets of Texas and thinking she had been hit by a car because she was limping, our precious girl made her way to NY so we could get her the help she needed. Once she got here she started getting very round. Well she was pregnant! And when the great vets Grady Animal Hospital did x-rays to see if everything was okay with the babies they saw that she had shotgun pellets in her leg!
Because of the late term pregnancy we couldn't put her under anesthesia so we had to wait. Dora gave birth to 5 gorgeous puppies a few days later. They are now 10 weeks and it was time for momma to get a home of her own.
Have a wonderful life my precious girl 🥰 You have chosen very wisely. And thanks to Jessica Roesel for falling in love and patiently waiting.
I'm ecstatic 💜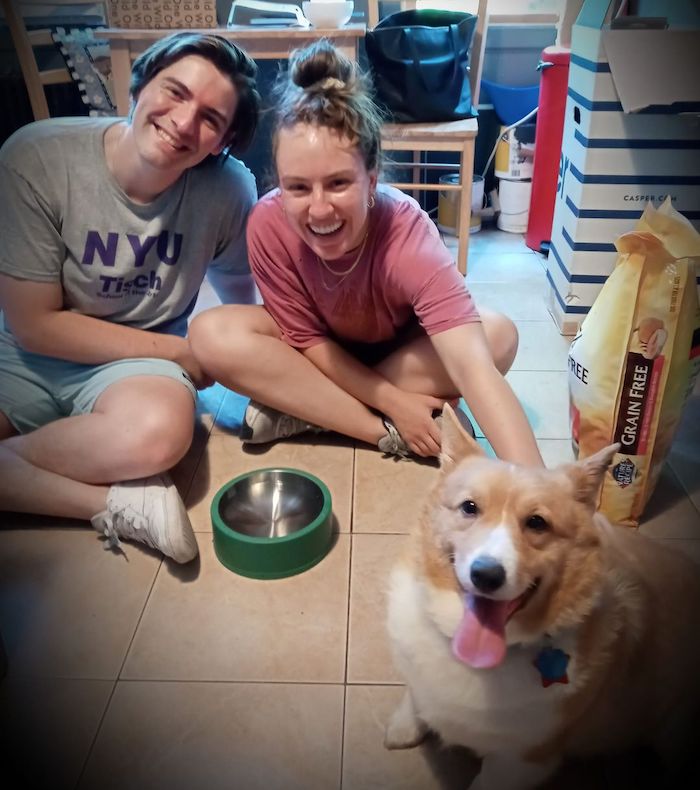 Tucker
Happy Tails for Tucker! After a long search for the pawfect home, Tucker has chosen his hoomans!
They are the lucky winners because Tuck is a picky boi and wasn't gonna settle on just okay 🥰 Have a wonderful life you corgalicious hunk!
Rule their lives as you should 💜💜💜💜💜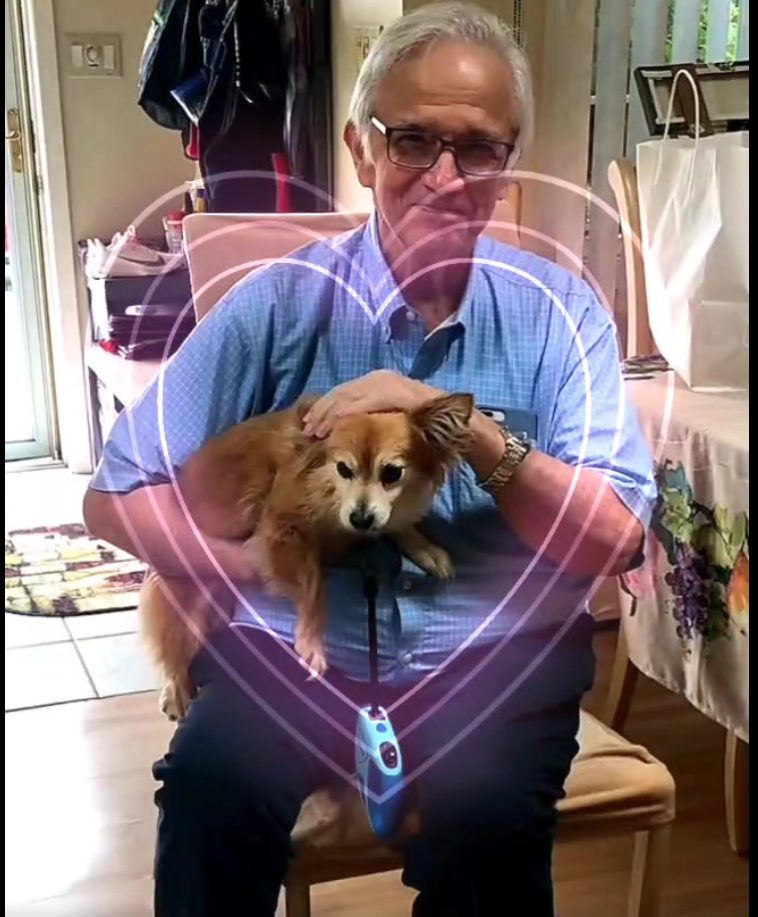 Charles & Bo
Happy Tail on this dreary day 🥰
We believe in seniors for seniors and this is why! This lovely gentleman was looking for a new friend and wasn't having luck because he's in his 70's! He wanted to do it right and adopt a senior pup that needed love and companionship as much as he did after the loss of his previous puppo.
I know for myself that I would be lost without the love of my precious furkids. They give us purpose and a reason to keep going.
Well Charles and Bo are going to have many years of love together.
Thanks to Greene Kelly and her family for always being amazing fosters! Without fosters we could never do what we do.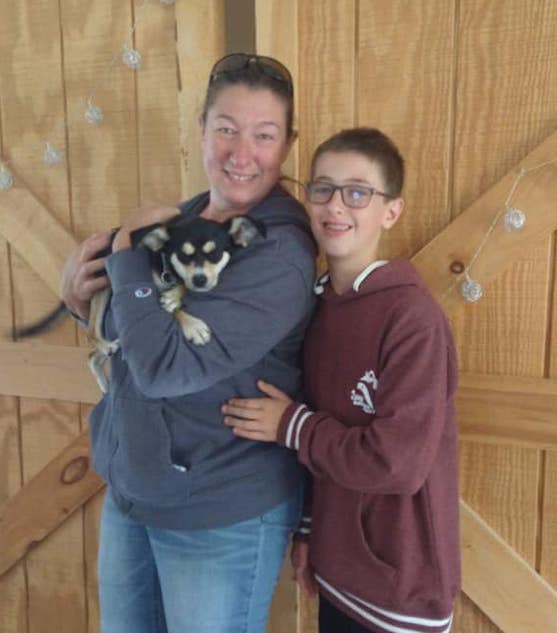 Daisy aka Wednesday
And another Happy Tail on this lovely Sunday! Daisy aka Wednesday has gone to her new home!!! From the streets of TX to Long Island and now up to Rochester! Many thanks to her amazeballs foster momma, Judy Sven for doing a great job as always!
Special thanks to the adopters mom, Jodie who reached out and let us make the match 💜
Have a wonderful life little furbling you deserve the best and you've got it 🥰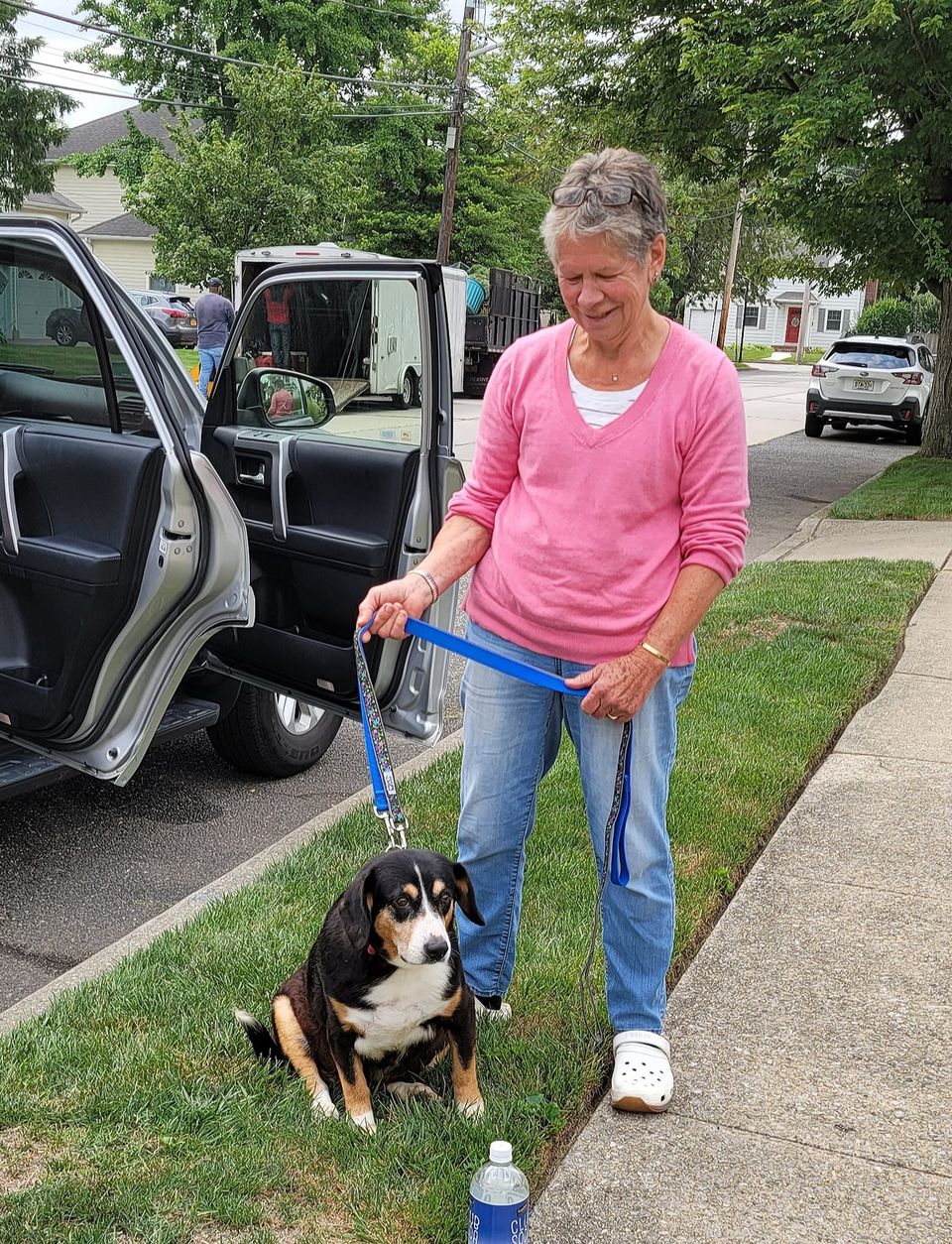 Martha
And on this slightly overcast morning we have a ray of sunshine 🌞 Our beautiful Martha has found her furever true home. After living in an Amish mill for 7 or 8 yrs she was rescued with the help of many wonderful people.
She had never been in a home and never knew what love was. The resiliency of animals never ceases to amaze us but she is the sweetest most loving velcro pup we've ever seen ❤ Her next journey has begun as she's off to her new home in the great state of Maine where her new dad and sisfurs await her arrival with great excitement.
Happy Tails Martha, my dear. May you only know love each and every day!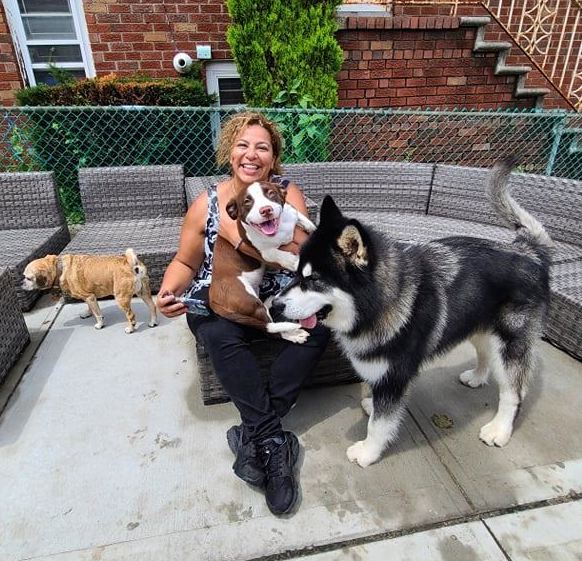 Evie
Things happen as they should and this Happy Tail proves that! Evie's furblings were all adopted but the perfect home for her took a while! She was obviously waiting for a hoomom that resembled her gorgeous smile!
She has furblings who love her and will always be cherished! The last of the Ruthie puppies to go! Now Momma Ruthie and all her babies are home where they belong!
Thanks to Tracy Snell Ash H & Heather T Mott and the transporters for all the help getting this crew to wonderful lives!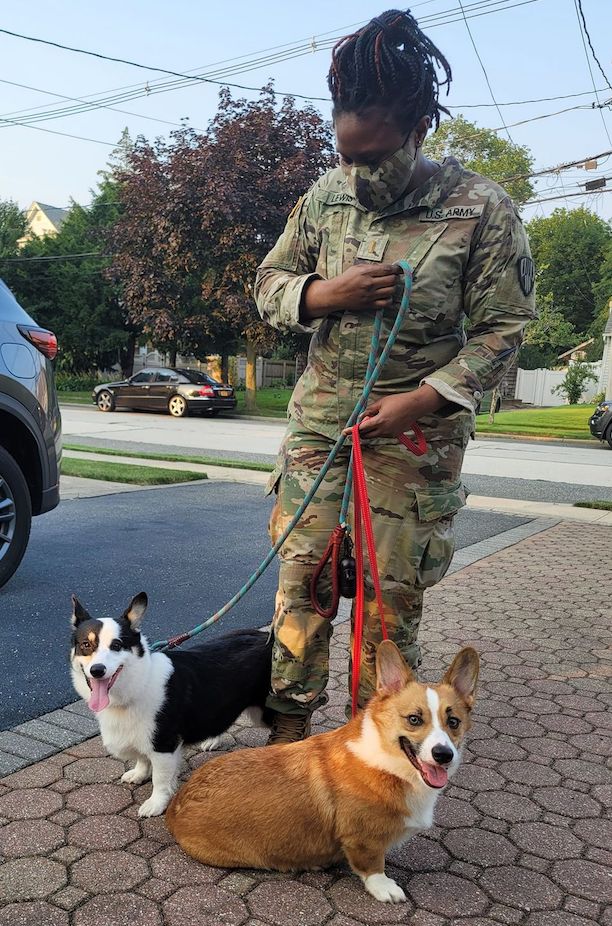 Zeppole aka Apollo
Happy Tails
And one of the most pawfect corgis I've ever met has gone to his true furever home! Zeppole fka Apollo has chosen wisely! He has a handsome brofur named Cheddar and a beautiful mom and dad!
After having 3 homes in 2 years he will now be worshipped as all corgos should. It was l9ve at first sight all around.
Happy Tails Zep! You are loved 😍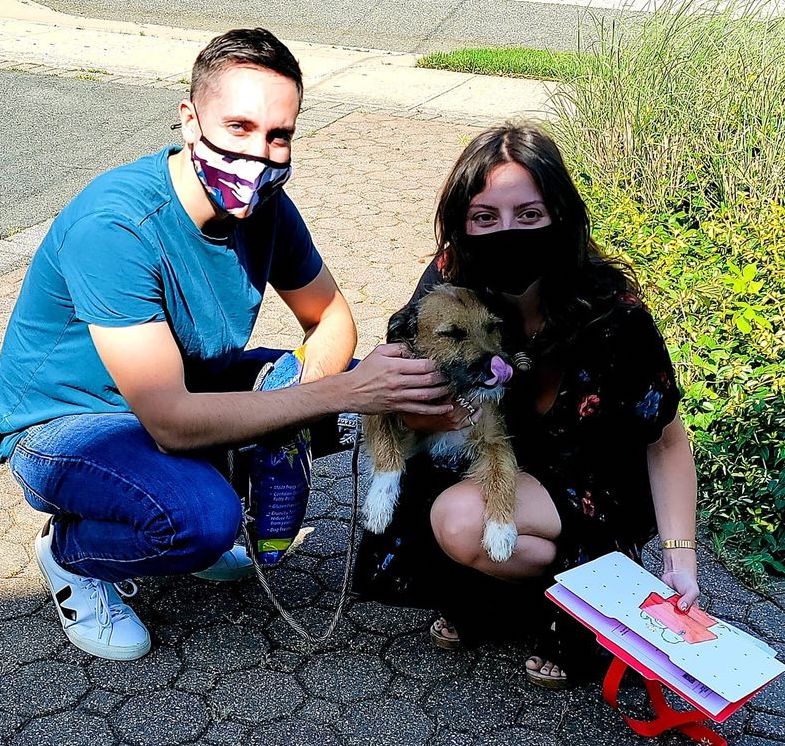 Russel
Happy Tails Russel!!!!!
So we have a lovely Happy Tail this afternoon! Our sweet Russell has found his hoomans! From a puppo who was not treated so nicely and then dumped in NYACC at 9 months old, and no other rescue that would step up, to me and a true assessment, a little work to a wonderful home! This guy is a real love bug! He will have a wonderful life of love and kindness.
Everyone who met him fell in love.  He's pure pawfection 🥰
Thanks to everyone who had a part in his rescue!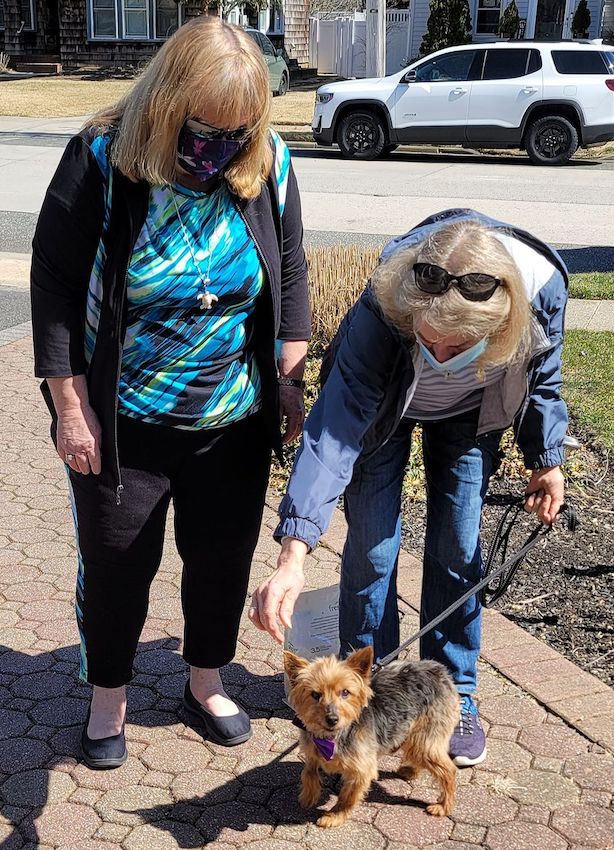 Scraps
Happy Tails Scraps!!!!!
Thanks to everyone at Grady Animal Hospital for knowing that you weren't a bad boy and saving your life! You have found your pawfect home! Life at the beach will be your dream come true! Your brofur Tyler will show you the ropes precious boy 😍 I couldn't be happier with your choice!
Love you always little man ❤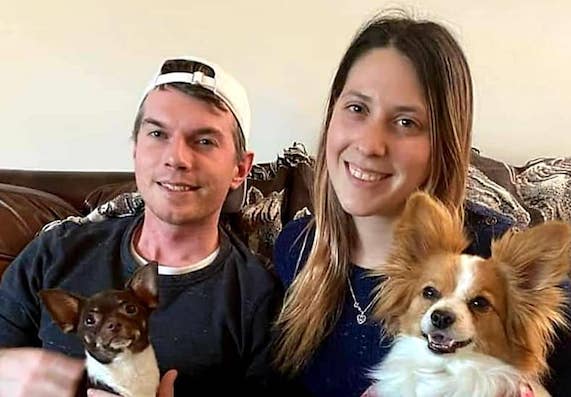 Malcolm aka Batman
So today our sweet Malcolm aka Batman went to his furever home. Bat is such a special pup. It was heartbreaking when his "owner" surrendered him. She pulled up to the house, handed him over, got in her car and left. She didn't even tell us his name. No food, no bowls or toys, nothing!
I expected the typical chi but here was this tiny 4lb little boy that just wanted to snuggle.
He was only 6 months old when he arrived and because he was so tiny we needed a foster where he'd be safe. So Judy stepped right up and he knew what a great home was in no time. Bat needed to be neutered and have his hernias fixed and to get all his vaccines. He had never seen a vet.
He was an immediate fan favorite at Grady Animal Hospital!So after lots of time with his foster mama an dad, lots of care, and tons of love he was ready to go to his new family. He now has a mom and dad of his own and a pretty sisfur to hang out with.
He will be loved and adored for all time.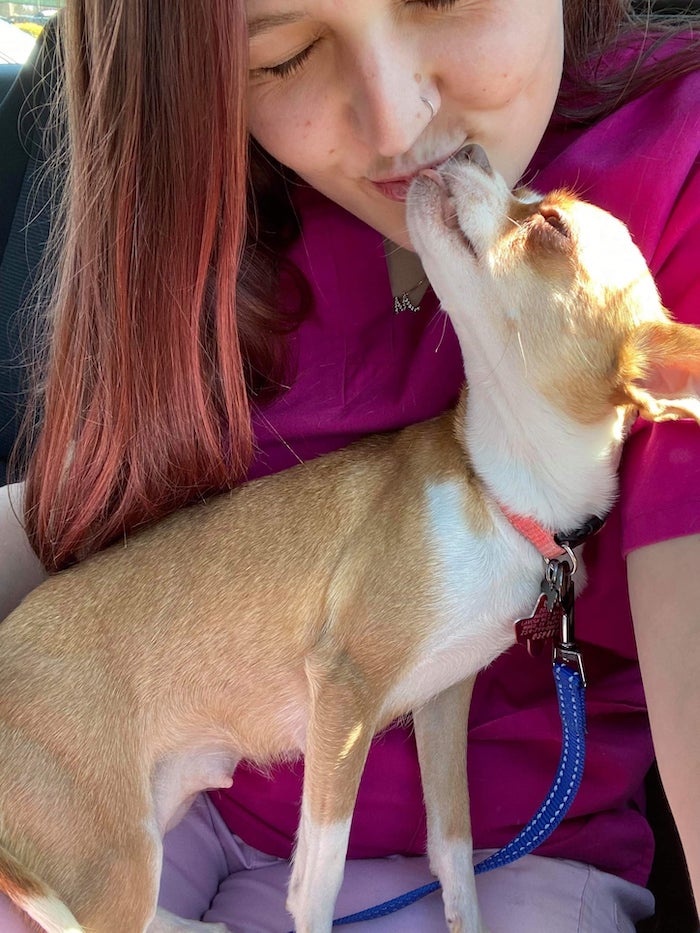 Polly-Olly-Cozy-Wozy
So I promised you I would find you a wonderful Chihuahua and from the looks of it I did my job and kept my promise! Thanks Kaitlin for being patient with me and trusting me to do what I do best ❤
Happy Tails Polly-Olly Cozy Posey!
You are a wonderful little girl and will be spoiled and adored for ever now! From the streets of Texas to the lap of love and luxury!!!!!! She almost didn't make it to her new momma because everyone fell hard in love with her.
Thank you to all the people who make this possible for us every day! We love you all and could never do it alone.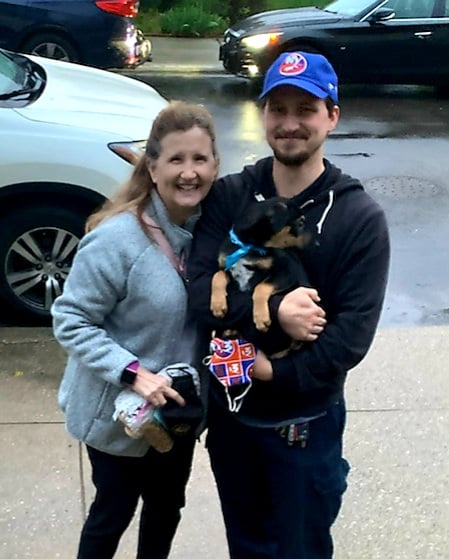 BlackJack
Happy Tails on a Thursday! Look at you BlackJack! From TX to the Big Apple! You have chosen a great home! Nothing like a puppy to give someone a new lease on life ❤
Thanks to Barbara Ann Bergstrom, Mary Jo Bertolino , Ilana Stone and all the people who take the time out of their day to help get these pups safe and to find them furever homes!
We love you all!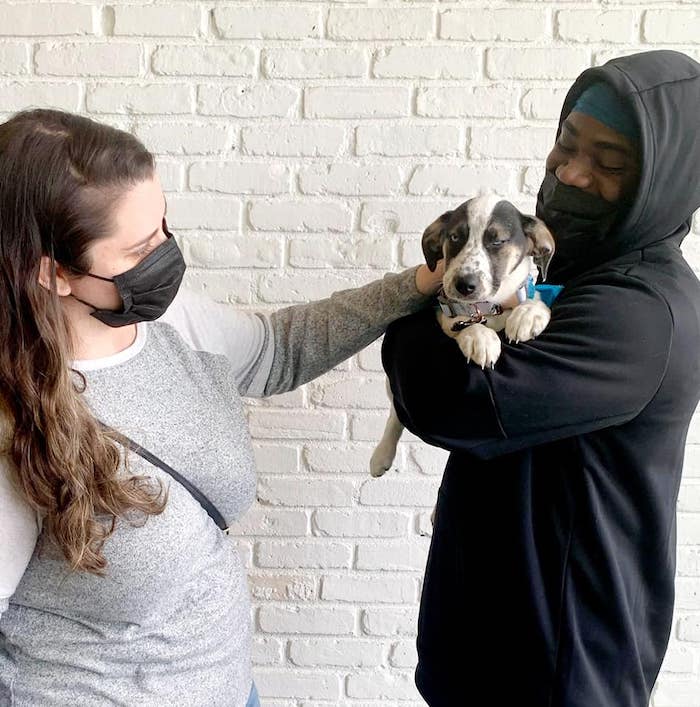 Skye
Happy Tails to the beautiful Skye! She has chosen wisely! Another TX puppy from a momma to be that we took in ❤ These wonderful babies will all get their pawfect homes!
Thanks to Barbara Ann Bergstrom and Mary Jo Bertolino for fostering, thanks to Ilana Stone for caring for mom and babies until transport was possible ❤
Thanks to all the amazing volunteers we have.
We are blessed!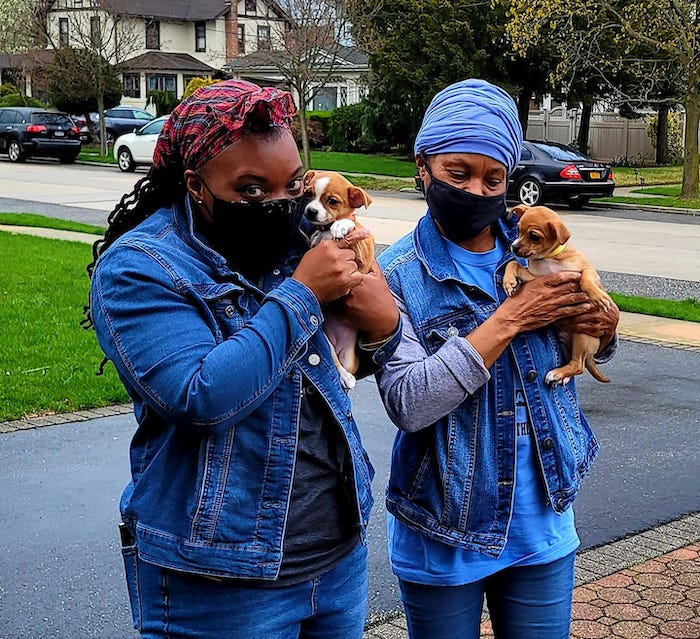 JoJo & Larry
JoJo and Larry have found their pawfect forever family!
Thank you Tracy Snell for getting them to me and thanks to Patricia Bohn Morris for sharing the adoption event with her gym people 💜👍💜
It is so amazing to have a part in these adoptions and to see families become complete.